SURFconext can be used by your institution to grant access to online services without having to make a new account on each individual service. Instead, you'll be using your institution account to log in. Here, we'll explain how to log in on a service through SURFconext, using your institution account.
Steps
1. Log in on the service you want to use
Some applications automatically forward you to SURFconext once you press the login-button.
Other applications have a special login-button for SURFconext. (Look for a 'Log in with a student/employee account'-button of some sort)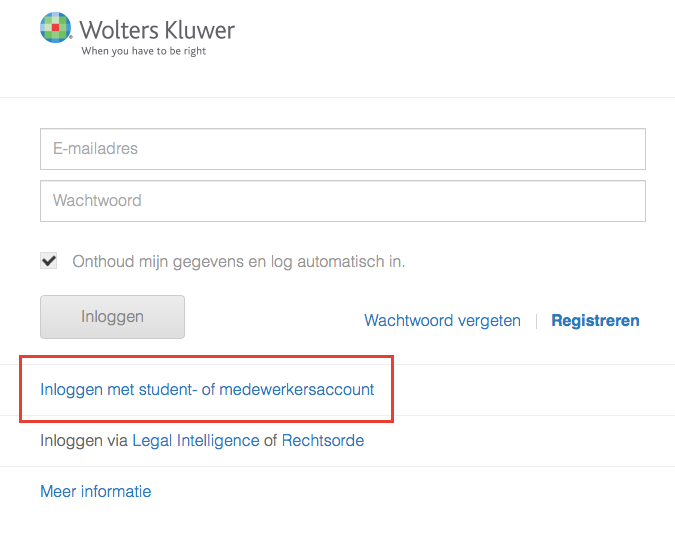 2. In the next screen (WAYF), choose your institution
Search for your own institution and click on it. You will be forwarded to the login-page of your institution.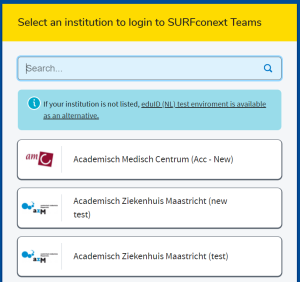 3. Login with your own account
Use the account you have with your institution to log in. After the log in was successful you will be redirected to the service you were trying to access.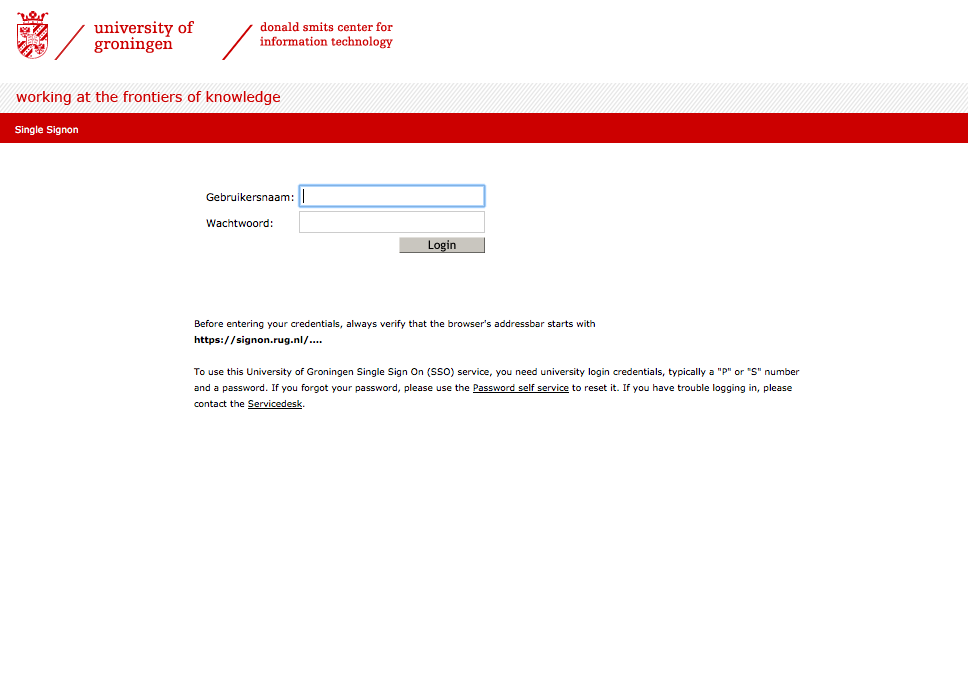 4. Consent for release of information
Sometimes, when you access an application for the first time, the consent-screen will pop up. You'll be asked if you want you allow your institution to share the named personal data with SURFconext. This is necessary for the application to function properly. If you choose not to share this data, you won't be able to access this service through SURFconext.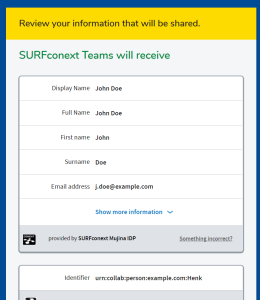 FAQ
How do you log in via SURFconext?
-Click on your institution in this screen.
-You will then be redirected to the log-in page of your institution where you can log in.
-Your institution will notify SURFconext that you have logged in successfully.
-You will be taken to the service for which you have logged in. You can then start using that service.
Your institution and SURFnet believe that user privacy is extremely important.
Personal details are only provided to a service provider if these details are needed to use the service. Contractual agreements between your institution, SURFconext, and the service provider guarantee that your personal details will be handled and processed with care.
If you have any questions about your privacy and the policy applied, please visit the SURFconext support page for more information or contact the SURFconext helpdesk at help@surfconext.nl.
My institution is not listed. What should I do?
If your institution is not listed, then it is either not linked to the SURFconext or your institution may not allow access to this particular service. Go back to the page for the service. In some cases, there will be alternative ways to log in.
My institution does not allow access to the service. What should I do?
It is possible that your institution is connected to SURFconext but has not (or not yet) made any arrangements with the service provider about the use of the service. We will forward your request to your institution. Based on your request your institution may consider to add this service to its service portfolio.
I have asked my institution for access but I still cannot get access. Why not?
Apparently, your institution has not arranged a license yet or, access to this service is not on the roadmap of your institution. Such decisions are beyond the scope and control of SURFnet.
In my browser I cannot select my institution. What should I do?
The dialog box to select your institution can be used in most popular browsers, including Internet Explorer 7 - 11, Firefox, Chrome, and Safari. Other browsers may not be supported. Your browser must support the use of cookies and JavaScript.
The layout of the page is incorrect, which makes it impossible to select my institution. How can I solve this problem?
In order to correct the layout of the page you should clear the cache of your browser and then restart the browser. This will solve the problem.