You can choose to connect your collaboration to an iRODS instance.
For more information on iRODS please refer to the iRODS user documentation.
If you already have an iRODS account, you can follow these steps to connect new workspaces to iRODS.
At the moment only Ubuntu-based workspaces can be connected. Also, only those workspaces will connect that are created after you have set up the iRODS connection.
Step 1: Request your connection URL
Please send a support request-ticket through https://servicedesk.surf.nl.
Specify your iRODS account and request your authentication to iRODS on SURF Research Cloud.
You will receive a URL that you can use to connect a collaboration to your iRODS account.
Step 2: Enter the URL
In the Research Cloud portal, go to the "Profile" tab and choose the collaboration you want to connect:
Further down, on the collaboration's display tile, select the "Storage" tab: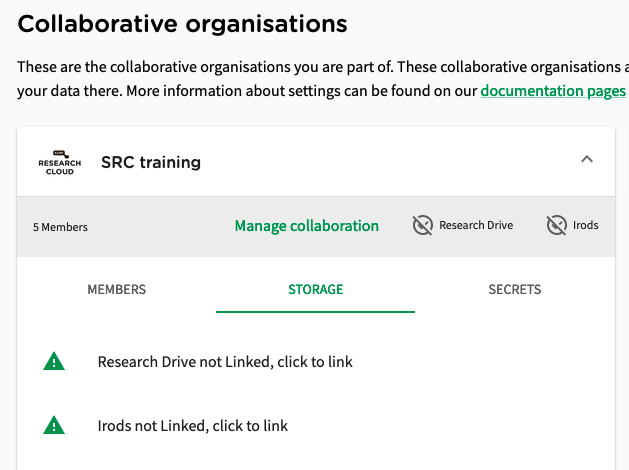 Click on "Irods not Linked, click to link".
In the following small form, put the URL you received into the URL field: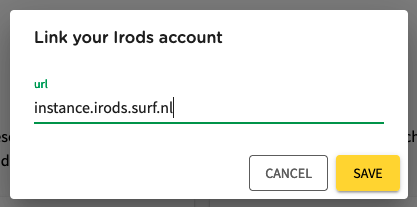 Submit the form by clicking on "Save".
Any new Ubuntu workspace will now be connected to the iRODS account you entered the URL for.
For further details please refer to this page of the iRODS user documentation.